THE MAA AND CATTLE ARE INSEPARABLE. SOLAR TECHNOLOGIES JOIN THE BOND.
GEORGE LIKAMA MAGILU PROFILE.
KAJIADO COUNTY
___________________________________________________________
To say that livestock keeping is the main stay of Maa Community is an understatement. Maa and Livestock fates are apparently intertwined and both are bestowed with a common fate… "if livestock are in trouble, so is man and if man is distressed, so are livestock."
George Likam Magilu, a large-scale livestock farmer lives in Enkasiti village with his wife and three young children. H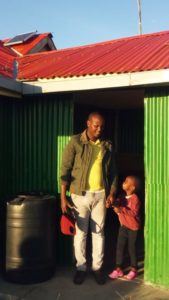 e is one of the upcoming opinion leaders in the village and boasts a huge herd of cattle, sheep and goats. This is his main source of income.
One of the key threats to his herd of livestock is attack by wild animals when dusk sets in. He uses a fuel powered generator for light to scare predators. Fuel cost has proved unsustainable and inefficient.
George installed a 55watts Solar panel, 9Ah battery, 4 strong lit torches, a radio and TV. All this cost USD 520 which he repaid over 12 months.
This eliminated monthly fuel costs of USD 150, increased livestock safety at night, created a revenue stream from phone charging and provided enjoyment with unlimited access to TV and radio. He plans to increase his number of goats and sheep.
According to George, Solar powered technologies is a great business partner that has joined the inseparable bond of livestock and Maa.